Crystals - The Ultimate Knowledge Base For Crystals
Over the years I have amassed a fortune of knowledge on Crystals and Crystal Healing which is my pleasure to share.
Finding What you are looking for is easy...
Use the Search Box
Scroll Down & Pick a topic
Crystal Search
Type in your search request and click "Search"
Scroll Down and Choose a topic, each page has a link back to here at the bottom.
What is a Crystal? Now that is going to depend very much on whom you ask because there are as many opinions as there are facets to a well polished gem.
In ethereal crystal healing, when the crystals' vibrations come into contact with our own vibration, it will affect our vibration in much the same way as we experience sound waves...
Healing Gemstones - An easy to use reference table, for healing Physical Issues and Common Ailments.
Bring the beauty of colored gemstones into your life... I invite you to continue your journey with me as we discover the inner color of the crystal and how it can affect your healing journey.
Have you ever wondered about the different uses for crystals and their powers? Find out how to use crystals for healing, protection, etc.
Ethereal Crystal Healing is an alternative or complementary energy healing medicine technique or modality that employs gemstones and crystals as healing tools.
Selecting and choosing crystals is very personal and making a choice as to which one you want and for what use you will put it to should be yours alone.
Cleansing crystals is, by general consensus, very important. When acquiring your crystals a cleansing routine is important before using them in any manner whatsoever.
Caring for your crystals is as important as caring for any living creature. Crystals have an energy field, and by taking care of your crystals you can assure that the energy is pure and unobstructed.
Learning to connect to or dance with crystals is an easy process, there are so many different methods, just like the different dances in ballroom dancing.
Explore an advanced crystal connection process, the deep passionate tango that allows you to connect to the healing frequency of crystals more powerfully.
By exploring the healing properties of crystals, you will notice that the healing properties and powers of crystals / gemstones detail many virtues.
Healing Gemstones - How to dedicate & attune the healing stones before using them.
Healing Stones (crystals) can receive and hold thought forms & when done consciously is called programming.
Interior decorating with crystals can be done with imaginative abandon to enhance the beauty and protect the sacred space that is your home.
List of Crystals for Emotional Issues - Your emotions are a very important part of you to be able to live fully and effectively.
List of Crystals for Spiritual Issues - Your spirituality is a very important part of who you are, heal now.
Use these Crystal healing techniques and lay-outs to re-align the body's energy fields, open the chakras promoting the overall feeling of well being.
Use Gemstones for Protection, negative influences can be effectively neutralized to make you feel safe and protected from harm in your everyday life.
Using loose gemstones for Space Clearing will improve the quality of our lives by getting rid of any negative energy and can be easily achieved.
Space Clearing is designed to cleanse out negative vibrations and to raise the energy & vibrations in the space.
A crystal grid can sometimes be more powerful than using a single crystal. This part of the journey is about building and using a crystal grid.
An important aspect of building a crystal grid is to have fun with it and be creative as it is a special way to enhance the powers and energies from crystals.
A Reiki Crystal grid powers up your Reiki with this simple technique extending the Reiki healing beyond the Reiki Healing Session.
In simple terms, crystal gem elixirs are made when water is imbued with the healing properties of a crystal. Water will also hold the energy patterns of a crystal for a long time.
Discover Gem Elixirs or Crystal Essences - & find out how to create an elixir for Crystal Healing, the Ultimate drink to your Good Health.
Avoid potentially toxic or harmful crystals when using the direct method of making gem elixirs, rather use the indirect method.
Drink Gem Elixirs to your Good Health. Various Gem Elixir Recipes to make the right choice for yourself.
NEWLY RELEASED! - A Definite HAVE TO HAVE!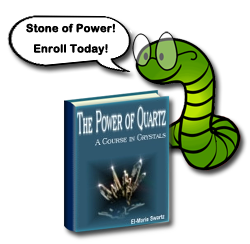 What is it about them, above all other stones that make them so special?
Quartz...Quartz...Quartz - The Master Crystal - The Mother of All Crystals!
Do you have any idea just how many crystals fall into the quartz family...no?
You will after you complete this home study crystal healing course from the HJE School of Energy Healing. Actually to be more accurate not only will you be aware of all the different crystals that fall into the quartz family but you will be qualified and certificated to use them.
Are you drawn to working with the energies of crystals and gem stones and feel you have a special connection with them? - YES!
Would you like to enhance that connection with gem stones? - YES!
Would you like to use Mother Earth's gifts as an energy healing tool and support? - YES!
Complete the Power of Quartz Course and you will!
You have to see it to believe it and all for only $59.00!

Your kind donations will keep this Free Website and its related Newsletter going & growing...
When Life hands you Lemons - Make Lemonade! Live Your Dream
Like Healing-Journeys-Energy.com Or "SEND" a Friend a message
Like Healing-Journeys-Energy.com