"Energy Healing Freebies To Have And Share"
This page features energy healing freebies in other words, free stuff, lots and lots of free stuff.
Scroll down the page, find what you like, click "Get this Freebie" to download and voila it's yours.
...and best of all... there is no limit to how many freebies you can get.
So go on and explore this treasure trove of energy healing freebies available to you...
...and remember all the free stuff here is legit, some require no "opt-in" and of course no credit card is required whatsoever.
We also have... a complete selection of Energy Healing Courses that is...
"Easy ... Simple ... Affordable"

Reminder

The links to the courses will open in a new window so that you will still have the opportunity to get all your energy healing freebies as well as complete the short form below to ensure you get your extra 50+ energy healing freebies and a copy of our ezine "W.O.W - Words of Wisdom".

There you have it!

Easy... Download your chosen course instantly onto your computer to use immediately. What could be easier than that?
Simple... That is exactly what I have done for you! I have simplified the learning process so that you will easily and quickly learn to become a healer.
Affordable... I have kept the price down so that you can save money as you learn and with every course you purchase you will save yourself a further 10% on your next course.

Other than all the fabulous energy healing freebies, I've made it easy and affordable for you, my future student, to purchase and download all home study courses via the Internet putting you in a position to start immediately, without leaving your chair... you don't have to wait days or weeks for delivery and you save loads on delivery charges as well as getting special, unique discounts on future studies.
This page is updated regularly and more and more freebies will be added as they become available.
When you get, give. When you learn, teach. ~ Maya Angelou ~
"NO Limit - NO Credit Card Required for These Energy Healing Freebies"
Basic Meditation Poster

Download this FREE Basic Meditation Poster and get a 10% discount voucher. ~ TWEET this offer:

Find out much more about meditation here.
Acupressure Points on Your Hand

Download this FREE Hand Acupressure Points Poster and get a 10% discount voucher. ~ TWEET this offer:

Ten Rules of Being Human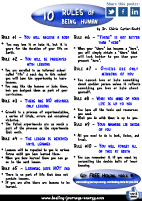 Download this FREE 10 Rules of Being Human Poster and get a 10% discount voucher. ~ TWEET this offer:

Appreciate Your Body Worksheet

Download this FREE Appreciate Your Body Worksheet and get a 10% discount voucher. ~ TWEET this offer:

Ayurvedic Massage Facial Energy Centers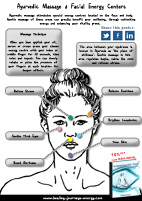 Download this FREE Ayurvedic Massage Facial Energy Centers Poster and get a 10% discount voucher. ~ TWEET this offer:

Conscious Unconscious Mind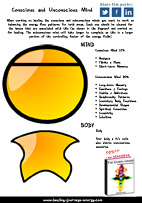 Download this FREE Conscious Unconscious Mind Poster and get a 10% discount voucher. ~ TWEET this offer:

Hierarchy of Angels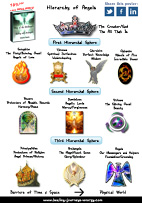 Download this FREE Conscious Hierarchy of Angels Poster and get a 10% discount voucher. ~ TWEET this offer:

Learn more about Archangels and their role in your life
Crystal Color Healing Chart

Download this FREE Crystal Color Healing Poster and get a 10% discount voucher. ~ TWEET this offer:

The healing power of crystals and color can improve your health a thousand fold.
Energy Focus Exercise Affirmation Chart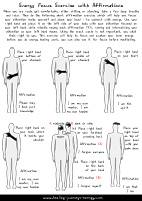 Download this FREE Energy Focus Exercise Affirmation Poster and get a 10% discount voucher. ~ TWEET this offer:

Get Over 50 Extra Freebies on the Healing Power of Energy...
By staying in touch... and subscribing today...

Words of Wisdom E-Zine

Welcome, just a short word on W.O.W... not only will I be discussing what's new and exciting in the different modalities of energy healing including, amongst others, Reiki, Crystals, Color and the Angels but I will also have regular book and product reviews and giveaways.

You can rest assured that all my reviews will only be of products I have tried and tested myself.

To ensure you get your copy without delay simply enter your details below and rest assured I never share your details and that in the unlikely event you wish to discontinue your subscription, don't worry, it will be stopped immediately and your name will permanently be deleted from my records.
Your "Like" & "Vote" would really be appreciated.
Join the HJE Healing Community!
This website is for you and others like you who have a desire to be a part of the natural way to heal.
I am sure you too have found a lot of valuable insights into energy healing and by sharing our knowledge we get to help one another.
This web site is a collation of my knowledge spread over more than 400 pages but I know that there is a lot more information and success stories out there and I would just love to hear about them.
I'd love to receive any articles, photos, stories, reviews, or other content you'd like to share.
Share Your Energy Healing Experience by submitting it right here on this site, then site visitors can read, rate, and comment about it. See an example of how this works with an interesting story of what happend to me about perfection.

You can also share or comment on any page of this website, just see the "Share this page" and "Leave a Comment" options at the very bottom!
Please join me as we develop and grow this fun Healing Community.

There's also an active group of fans on my Healing Journeys Energy Facebook Page so come join the conversation, we'd love to have you with us!

I recently started a Pinterest page with tons of boards to follow!

Of course I am available on Twitter and would love to see your tweets!