Ethereal Crystal Healing
Ethereal Crystal Healing is an alternative or complementary energy healing medicine technique or modality that employs gemstones and crystals as healing tools.
Crystals when used for healing, supply, direct and enhance the healing energy.
Because they are energy amplifiers they have no ill or side effects on the human energy system, in effect their "consciousness" is yours.
Because of our lifestyles our energy on a cellular level is often very depleted and crystals give extra energy to our cells.
This additional healing energy within the cells is what promotes and enhances healing and repairing and with continued use assists in maintaining our health.
Balance is Everything
Where a medical doctor treats the physical body; a psychologist counsels the mind and emotions; and the spiritual leaders and priests attend to the soul the energy healer works holistically.
The practitioner of ethereal crystal healing works to balance everything... the mind, body, emotions and soul or spirit.
Anything which blocks or deprives a cell of energy whether it is stress, low self-esteem or any other negative influence, will weaken it and when a cell is weakened, the cell sends out a signal to the brain which mostly translates to pain requesting energy to relieve the problem.
If the brain has enough bio-energy in reserve, and it hears the signal clearly, it will send the appropriate amount of energy to the cell, which it will use to operate the automatic repair, maintenance, rejuvenation, and replacement process.
When the process reaches a certain level of automatic repair, the pain signal is no longer sent and the brain discontinues sending the "healing" message.
The Key
The key to all healing is energy and healing is achieved by balancing energy.
Therefore as healers we strive to balance the energies of all the bodies many parts including that of the emotions and spirit, in order that we should have health, harmony and joy.
This is the aim of the energy healer, it is what I teach all my students.
Make friends with the healing crystals, learn to "dance" with them and they will bring unlimited joy, healing and abundance into your life, as you learn to link your mind is linked to the stones, they serve as an amplifier to increase the healing process.
If you are new to the world of ethereal crystal healing and energy whether you are experiencing powerful or subtle feelings or energy vibrations from the gemstones, it matters not, just take a moment to appreciate the beauty and depth of the potential that has entered your life.
With an open heart and mind you will witness first hand the miracles of crystal healing as things begin to happen.
Make it happen...
As a practitioner of ethereal energy healing one of the techniques you would have learned would be to place gemstones or crystals on or around the body.
The crystals are placed on the body in such a manner as to correspond with the chakras, this is known as either a crystal lay-out, crystal net or crystal grid, the idea behind this is to construct an energy field that surrounds the client enhancing healing energy. More on Crystal Grids here.
This type of healing will remove blockages in the aura or the body's electromagnetic field.
Ethereal Crystal Healing can be used to improve your life physically, mentally, emotionally and spiritually.
Most all crystals are healing stones and they are incredibly versatile each exerting its energy at a different level and frequency.
Opportunity is yours...
As you journey on the road to healing whatever healing gemstones you need will show up at the most opportune time. You will become more attuned to the different healing properties of crystals as well as the energies of the different gemstones and they will call you to them.
It would just about seem that they choose you.
You will be attracted to them whether because of their color, shape or maybe a sensation you experience when you pick one up and hold it, the vibration you feel from the stone will let you know it is the right one for you. Allow your senses, to be your guide and trust your intuition.
The correct healing properties of crystals are chosen for crystal healing either by the gemstones' color or the composition of the stone defining its appropriateness for a specific disease. Your intuition, your love, your connectedness to the energies will guide you to make the right choices in every situation.
Nothing on Earth compares with their fascinating forms and enchanting colors.
The key to all healing is energy and healing is a balancing energy. Therefore if we can balance the energies of all the bodies with ethereal crystal healing, we can have health, harmony and joy.
The Placebo Affect
Ethereal Crystal healing is not an exact science and before we take a look at some healing gemstones and their energies and healing properties, we must keep the sceptic in mind. As with everything and in particular something different like healing with crystals it would be open season for the sceptic to try to raise simple arguments like the "placebo affect".
The placebo effect asserts that a person will feel better after a treatment if they expect that they will. Sometimes the placebo effect has been cited as being the only reason for any noticeable improvement in health when, alternative healing methods, in particular crystal healing therapy is employed.
In short what they seem to be saying is that it is all in the mind? One of the most important things healers are taught is the power of the mind, how to use and manage it, so when somebody says to me that crystal healing is all in the mind, I am reminded of the fact that many problems start in the mind, aura - mental body, and spread to the body.
Trained healers understand more than anyone the overwhelming proof that the mind does play a vital role in the body's ability to recover from illness ...
The healing power of positive thought is universally accepted by both traditional and alternative medical practitioners to not only aid but speed up the healing process, add to this a belief in the powers of a certain therapy, like ethereal crystal healing and the cure can and will be quicker.
Energy healing like any other treatment is not necessarily a one time quick fix, on some days you or the person you are working on may be more sensitive and open to the crystal healing process than others. I always suggest that it is best to have short, regular crystal healing sessions rather than to try and "fix" everything all at once.
Having spent more that 20 years actively practising crystal healing I have created two home study courses for anyone, whether you just want to enhance your knowledge of crystals and their uses for self-healing or whether you want to become a crystal healer. Both courses are also certificated.
A little bit of History . . .
Ancient peoples believed that crystals had fallen from the heavens as gifts from their ancestors.
This notion is not so far from the truth. All the particles that make up matter once originated within the hearts of old stars. When these stars exploded,their particles were scattered throughout the universe and re-formed as new stars and planets.
The idea that every stone has special magical healing properties for ethereal crystal healing can be traced back through the European literature of the early Middle Ages right back to their sources in Greek, Roman and Arabic philosophy, which in turn owe much to the Ayurvedic traditions of India.
For many centuries, because the origin of disease was unknown; healing and in particular ethereal crystal healing as part of the healers' toolkit was linked with magick and superstition.
Countless magical and healing properties have been attributed to the healing stones over the centuries.
Diamonds gave immunity to poison and revealed infidelity ...
Amethyst protected against drunkenness ...
Bloodstone (heliotrope) stopped nosebleed and conferred invisibility ...
Sapphire enabled the wearer to escape from prison ...
Crystals have always been considered special, extraordinary, even supernatural.
The people who carried, wore or used crystals believed that they would be imbued with some of the power belonging to these spiritual realms which of course is viewed as a form of ethereal crystal healing.
In ancient Egypt ethereal crystal healing was practiced by the pharaoh and his priesthood who prized turquoise as a symbol of fertility, life and joy.
While the general populace had no access to the rare and expensive gemstones, as these religious and temporal leaders would seek out the finest gems, they would mimic the gemstones' appearance with less precious materials, with amulets of blue glass, hoping for the same benefit of ethereal crystal healing as one would get from genuine crystal.
In this way the two main areas of crystal use were defined:
As a means to display earthly status.
As a focus for magical and healing energies.
These two strands persist to this day, we have the "hoi polloi" and their rocks (diamonds) and we have ethereal crystal healing.
These as some of the things I have learned about crystals and ethereal crystal healing over the years:
There are no rules! Use gemstones however, whenever, and wherever you feel is best. There may be "accepted" connections between certain colors and chakras or other relationships, but trust your inner knowingness, its your body after all.
Trust your own intuition! You may feel drawn to a particular color, shape, or "feel" of a healing crystal. Know that you will find what you need at the right time. I often buy a new crystal without knowing its properties, then learn that it's just right for whatever issue I'm dealing with.
Bigger or more perfect is not always better. Small, odd-shaped, included, or even partially damaged crystals can have very powerful healing energies and all crystals have their own stories to tell.
Some shout, some whisper. From some you may get a big reaction, and little or nothing from others. You may even find one and not know what to do with it for a while. I have some that haven't yet revealed their purpose to me, but remember right time or place and you will know.
Should a stone disappear or break, let it go, it has done its "dance", you did nothing "wrong" to it. (Of course, give your crystals a comfy place to stay safe when they're not in use and blanket them with love.)
NEWLY RELEASED! - A Definite HAVE TO HAVE!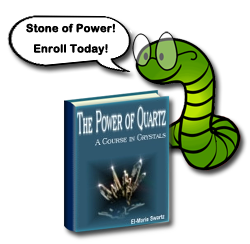 What is it about them, above all other stones that make them so special?
Quartz...Quartz...Quartz - The Master Crystal - The Mother of All Crystals!
Do you have any idea just how many crystals fall into the quartz family...no?
You will after you complete this home study crystal healing course from the HJE School of Energy Healing. Actually to be more accurate not only will you be aware of all the different crystals that fall into the quartz family but you will be qualified and certificated to use them.
Are you drawn to working with the energies of crystals and gem stones and feel you have a special connection with them? - YES!
Would you like to enhance that connection with gem stones? - YES!
Would you like to use Mother Earth's gifts as an energy healing tool and support? - YES!
Complete the Power of Quartz Course and you will!
You have to see it to believe it and all for only $59.00!

Your kind donations will keep this Free Website and its related Newsletter going & growing...
When Life hands you Lemons - Make Lemonade! Live Your Dream
Like Healing-Journeys-Energy.com Or "SEND" a Friend a message
Like Healing-Journeys-Energy.com