Affirmations E-Course - PART 6
Thought for Today
Whatever the mind can conceive and believe, the mind can achieve. ~ Napoleon Hill ~
The "P" Factor
Just like the "P" factor position, position, position - in property we have the "P" factor in affirming positive, personal, present (in the now).
***z1-below-paragraph-1-AffirmationsCourse.shtml***
Be POSITIVE.
Use the most positive terms you can. Rather than saying "I am not fat", say "I choose to stay slim". The word "not" will be discarded by your unconscious mind, as it cannot distinguish positive from negative and will therefore hear "I am fat" which it will then seek to prove. Especially if you are a bit overweight, and are working at changing your beliefs around body image.
Use the PRESENT.
You want your mind to know it has already happened. Make them short and specific. I suggest you keep in mind that the affirmation has to be believable to work. If you say "I have a million bucks", your mind will not believe you, need I say why? Combine with the choice method and rather say "I choose to have a million bucks". Here you might want to give yourself a time frame but always remember "believability". Your mind will do its best to bring it into reality.
PERSONALIZEyour affirmations.
As your unconscious mind only works for you, not for others, saying "My partner finds me attractive and loves me" will not be effective, because you have no control over your partner. Rather say "I choose to feel attractive and loved by my partner", as with this affirmation you are only controlling your own feelings.
Lastly...
Always state your personal growth affirmations in the comparative.
"I am becoming more and more confident" or "I choose to feel more and more confident" will be much more effective than "I am confident".
Because by doing this you are not limiting yourself as to how much more confident you can become otherwise your mind may think you are already confident enough, and it will not need to do any more work.
Today's Affirmations
I am a uniquely talented human being.
I am watching for my latent talent to be revealed.
I continuously develop and make use of my talent.
Finally understand the Key Factors to Energy Healing

& OWN YOUR HEALTH!
ATTENTION!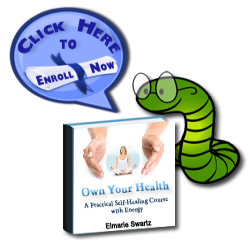 To understand how to heal with energy you have to understand the concept of energy, the concept of healing and the concept of the mind body connection.
Own Your Health - A Practical Course in Understanding Self-healing with EnergyAnd if this is not enough most energy healing modalities are based in one or more of the following:
Meditation
Visualization
Centering and Grounding
Intent
As well as the effects of negative energy, emotions, thinking and speech:
On your environement
On your personal energy field and energy body
The "Own Your Health - A Practical Course to Understand Self-Healing with Energy" deals with all the aspects as mentioned above and more, is professionally presented in an easy way for you to learn and understand about how to heal with energy so that you can heal yourself and others.

$59.00
Your kind donations will keep this Free Website and its related Newsletter going & growing...
When Life hands you Lemons - Make Lemonade! Live Your Dream
Like Healing-Journeys-Energy.com Or "SEND" a Friend a message
Like Healing-Journeys-Energy.com