Affirmations E-Course - PART 5
Thought for Today
Treat people, including yourself, as if you all were what you ought to be and you will help them and yourself to become what you're capable of becoming.
Feelization - say what?
Have you ever tried being depressed when you feel like a million bucks?
Have you ever tried having negative thoughts when you are feeling good?
FACT!I know that when I feel good, I can move mountains and everything is possible. It's impossible to feel both good and bad at the same time therefore the affirmation must trigger "feel good" feelings. I call this "feelization".
***z1-below-paragraph-1-AffirmationsCourse.shtml***
Feelings and emotions is what your unconscious mind understands best, it does not speak in words, your only way of communication is therefore through "feelization".
You can activate "feelization" in one of two ways:
The first technique is to use words that involve feelings.
Use words like: "fun, pleasure, enjoyable, comfortable, easy, relaxed, delightful, amusing, wonderful, deserving, and good enough". They work well.
The second technique is to image, use your imagination.
Remember what it feels like, not to be able to stop laughing?

Remember what it feels like to have a grin on your face that cannot be wiped off, no matter what?
Allow your self to drift back when you were a small child and for whatever reason you felt good, bursting with joy. Create this "feeling good" state and you can use absolutely anything to create this state of feeling good.
Think of a great accomplishment, a fun time, a terrific vacation or winning the lottery.
Now I want your unconscious mind to listen very carefully... visualize the situation stated in your affirmation has already come true, perceive yourself in that situation and feel the feelings of being successful & wealthy and living the life of your dreams.
Today's Affirmations
I choose to experience things that will reveal my true Life Purpose.
I am now acting upon my Life Purpose with joy and passion.
I now accept that my Life Purpose is to love myself others.
Finally understand the Key Factors to Energy Healing

& OWN YOUR HEALTH!
ATTENTION!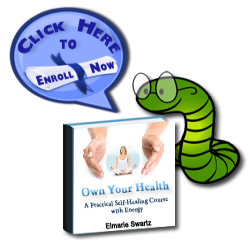 To understand how to heal with energy you have to understand the concept of energy, the concept of healing and the concept of the mind body connection.
Own Your Health - A Practical Course in Understanding Self-healing with EnergyAnd if this is not enough most energy healing modalities are based in one or more of the following:
Meditation
Visualization
Centering and Grounding
Intent
As well as the effects of negative energy, emotions, thinking and speech:
On your environement
On your personal energy field and energy body
The "Own Your Health - A Practical Course to Understand Self-Healing with Energy" deals with all the aspects as mentioned above and more, is professionally presented in an easy way for you to learn and understand about how to heal with energy so that you can heal yourself and others.

$59.00
Your kind donations will keep this Free Website and its related Newsletter going & growing...
When Life hands you Lemons - Make Lemonade! Live Your Dream
Like Healing-Journeys-Energy.com Or "SEND" a Friend a message
Like Healing-Journeys-Energy.com