Affirmations E-Course - PART 4
Thought for Today
Life is an opportunity, benefit from it.
Life is beauty, admire it.
Life is bliss, taste it.
Life is a dream, realize it.
Life is a challenge, meet it.
Life is a duty, complete it.
Life is a game, play it.
Life is a promise, fulfill it.
Life is a sorrow, overcome it.
Life is a song, sing it.
Life is a struggle, accept it.
Life is a tragedy, confront it.
Life is an adventure, dare it.
Life is luck, make it.
Life is too precious, do not destroy it.
Life is life, fight for it.
~ Mother Teresa ~
Foundation of Successful Affirmations
The foundation to an effective and successful affirmation...
Believability - First and foremost your affirmation must be believable to your unconscious mind.
In every instance this is the stage where most of the affirmations people use, fall apart.
For instance, you are so broke that you cannot even afford to pay attention.
YET you now repeat to yourself "I earn 10,000 pounds or dollars per month", believable to your mind? I don't think so! Would you not agree that this is an unrealistic if not completely unbelievable message you are giving to the unconscious mind at this point while hoping for and not believing in a positive response.
Here's a Suggestion
Always start by making choices and one of the best and easiest ways to do this is to begin your affirmations by using the words "I choose", so as opposed to:
"I earn 10,000 ponds or dollars per month"
Why not rather say "I choose to earn 10,000 pounds or dollars per month"
Try it!
Can you feel the difference? Even though you are not earning it yet, you are making a quantum leap in getting there by choosing to do so.
You now have the foundation, and are ready for the first building block to your successful affirmation.

Your unconscious mind continuously hunts for proof.
As your unconscious mind can not distinguish between positive or negative, right or wrong, good or bad it will hunt for proof either way.
Countless people stay in poverty because they associate pain, bad, wrong and so forth with money.
Think on this for a moment...
Every time you have to spend money, you think of your loans or your outstanding and unpaid bills which in turn unintentionally causes you crucial pain. Or whenever you desire financial abundance or prosperity your immediate response is, "It is wrong, I'm a bad person for desiring money" because most of us were raised to believe that scarcity is good and "being rich" is bad.
Now... what to do?
As it is the feeling you attach to money that makes you rich or poor.
So the logical question is... how can you turn this to your advantage?
You are absolutely right... Next time you go out shopping, think of the pleasure of being able to spend as much money as you want to, on whatever you desire and feel the pleasure instead of feeling pain.
What would happen if you associated pleasure with spending money?
Why not try the following?
At the moment you take out your money or credit card, say this affirmation to yourself "I always have more than enough to spend."
This affirmation is always true, as long as you have money left in your pocket (no matter how much), so the unconscious mind will believe it.
AHA! Why not combine the choice method which is the foundation with the proof method which is the building block.
For example next time you spend money say: "I choose to feel (foundation) that I always have more than enough to spend." You have money left in your pocket (building block), so the unconscious mind will believe it.
Observe how you feel. With these methods only a few times of real life choices and proof will make your unconscious mind believe it.
Next time you desire financial abundance instead of thinking it is bad or wrong, think of the good you can do, the opportunities you can give those close to you, look around you and immediately give thanks for one thing you have, any one thing YOU HAVE!
Today's Affirmations
I am a strong, self-reliant and competent person.
Each day I accomplish everything I set out to achieve.
I am completely happy with myself and my positive attitude
Finally understand the Key Factors to Energy Healing

& OWN YOUR HEALTH!
ATTENTION!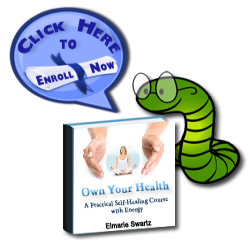 To understand how to heal with energy you have to understand the concept of energy, the concept of healing and the concept of the mind body connection.
Own Your Health - A Practical Course in Understanding Self-healing with EnergyAnd if this is not enough most energy healing modalities are based in one or more of the following:
Meditation
Visualization
Centering and Grounding
Intent
As well as the effects of negative energy, emotions, thinking and speech:
On your environement
On your personal energy field and energy body
The "Own Your Health - A Practical Course to Understand Self-Healing with Energy" deals with all the aspects as mentioned above and more, is professionally presented in an easy way for you to learn and understand about how to heal with energy so that you can heal yourself and others.

$59.00
Your kind donations will keep this Free Website and its related Newsletter going & growing...
When Life hands you Lemons - Make Lemonade! Live Your Dream
Like Healing-Journeys-Energy.com Or "SEND" a Friend a message
Like Healing-Journeys-Energy.com