Affirmations E-Course - PART 2
Thought for Today
Watch your thoughts; they become words.

Watch your words; they become actions.

Watch your actions; they become habits.

Watch your habits; they become character.

Watch your character; it becomes your destiny.

~Frank Outlaw~
How do Affirmations work?
People become really quite remarkable when they start thinking that they can do things. When they believe in themselves they have the first secret of success."
~ Norman Vincent Peale ~
Even though affirmations consist of words, they often involuntarily conjure mental images in the mind.
***z1-below-paragraph-1-AffirmationsCourse.shtml***
They work by slipping positive suggestions to the unconscious mind; a process that is not unlike like hypnosis in some respects.
To explain further...
These mental images assist the unconscious mind in realizing (making real) the affirmation. In order to ensure their effectiveness, they have to be repeated with attention, conviction, interest and desire.
Quite simply, if you say something over and over again to your self - preferably out loud, and preferably with feeling - your unconscious mind will begin to accept the statement as true; and then truly wonderful things will begin to happen as you take-on the very qualities that you affirm.
This happens because a confident person is a person who believes they are confident; a joyful person is a person who believes life is full of joy; and an enthusiastic person is a person who believes in enthusiasm.
By using affirmations, you have the power to change your beliefs about yourself. You can become a confident, joyful and enthusiastic person if that is what you want.

You don't have to believe me, believe yourself!
The power of affirmations is only limited by your personal conviction and belief that the affirmations are working. If they are only done half-heartedly,those are the results that will be received.
If you believe completely in achieving the goal stated in the affirmation, that situation is almost sure to be achieved.
Today's Affirmations
I am now free to do the things I love.
I choose to do the things I love.
I am fulfilled as a person.
Finally understand the Key Factors to Energy Healing

& OWN YOUR HEALTH!
ATTENTION!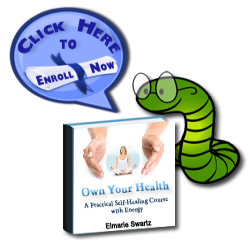 To understand how to heal with energy you have to understand the concept of energy, the concept of healing and the concept of the mind body connection.
Own Your Health - A Practical Course in Understanding Self-healing with EnergyAnd if this is not enough most energy healing modalities are based in one or more of the following:
Meditation
Visualization
Centering and Grounding
Intent
As well as the effects of negative energy, emotions, thinking and speech:
On your environement
On your personal energy field and energy body
The "Own Your Health - A Practical Course to Understand Self-Healing with Energy" deals with all the aspects as mentioned above and more, is professionally presented in an easy way for you to learn and understand about how to heal with energy so that you can heal yourself and others.

$59.00
Your kind donations will keep this Free Website and its related Newsletter going & growing...
When Life hands you Lemons - Make Lemonade! Live Your Dream
Like Healing-Journeys-Energy.com Or "SEND" a Friend a message
Like Healing-Journeys-Energy.com