Supercharge Your Daily Affirmations
Supercharge your daily affirmations by using different techniques to enhance their effectiveness which puts a wonderful and powerful tool in your hands to ensure the effectiveness of your affirmations.
The key, is that you really need to know how to use them. It is also important to first understand what affirmations are really all about.
In a nutshell, affirmations are everything you think, say, believe and feel. So if you've ever recited affirmations that just didn't happen in your life, it's because there is some conflict between what you are saying and who you are.
So let's look at some ways to supercharge your affirmations.
Firstly, the higher your emotional state as you say them, the more effective they are so this brings us to "feelization".
Feelization - say what?
Have you ever tried being depressed when you feel like a million bucks?
Have you ever tried having negative thoughts when you are feeling good?
FACT! I know that when I feel good, I can move mountains and everything is possible. It's impossible to feel both good and bad at the same time therefore the affirmation must trigger "feel good" feelings. I call this "feelization".
Feelings and emotions is what your unconscious mind understands best, it does not speak in words, your only way of communication is therefore through "feelization".
You can activate "feelization" in one of two ways:
The first technique is to use words that involve feelings.
Use words like: "fun, pleasure, enjoyable, comfortable, easy, relaxed, delightful, amusing, wonderful, deserving, and good enough". They work well.
The second technique is to image, use your imagination.
Remember what it feels like, not to be able to stop laughing?
Remember what it feels like to have a grin on your face that cannot be wiped off, no matter what?
Allow your self to drift back when you were a small child and for whatever reason you felt good, bursting with joy. Create this "feeling good" state and you can use absolutely anything to create this state of feeling good.
Think of a great accomplishment, a fun time, a terrific vacation or winning the lottery.
Now I want your unconscious mind to listen very carefully... visualize the situation stated in your affirmation has already come true, perceive yourself in that situation and feel the feelings of being successful & wealthy and living the life of your dreams.
Affirmations form an integral part to your healing yourself and knowing, understanding, how to raise your energy levels, to take control of your life will prove the key to using affirmations successfully.
Favorite topics for affirmations:
Prosperity and abundance
New relationships
Manifestation of physical things
Forgiveness
Attracting business
New employment
Bringing positive people into your life
Some word examples for affirmations:
Abundant; Accept
Beautiful; Bright
Calm; Capable; Caring; Creative
Enjoyable
Giving; Grateful
Handsome; Happy; Healthy; Hopeful
Ideal; Intelligent
Love; Loving
Peaceful; Pretty; Problem Solver; Prosperous
Quick; Quiet
Relaxed; Responsible
Smart; Strong; Successful
Wealth; Wonderful
Daily Affirmation phrase examples:
| | |
| --- | --- |
| Work smart | Have the means |
| Be a winner | Let go |
| Be calm | Let it be |
| Believe in me | Let them be |
| Dare to be different | Trust in me |
| Do it | Step back |
| Do it now | Seize the opportunity |
| Enjoy good health | Take a risk |
| Get in control | Take action |
| Relax and enjoy | Take it easy |
| Getting better every day | Take the lead |
| Give them space | Take the time |
| I can | Think deserving |
| I am | Think happy |
| Have a lot | Think wisely |
| Have fun | I choose |
Lastly...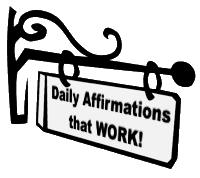 Daily Affirmations that Work!
Always state your daily affirmations especially your personal growth affirmations in the comparative.
"I am becoming more and more confident" or "I choose to feel more and more confident" will be much more effective than "I am confident".
Because by doing this you are not limiting yourself as to how much more confident you can become otherwise your mind may think you are already confident enough, and it will not need to do any more work.
"Treat people, including yourself, as if you all were what you ought to be and you will help them and yourself to become what you're capable of becoming."
Your "Like" & "Vote" would really be appreciated.
Join the HJE Healing Community!
This website is for you and others like you who have a desire to be a part of the natural way to heal.
I am sure you too have found a lot of valuable insights into energy healing and by sharing our knowledge we get to help one another.
This web site is a collation of my knowledge spread over more than 400 pages but I know that there is a lot more information and success stories out there and I would just love to hear about them.
I'd love to receive any articles, photos, stories, reviews, or other content you'd like to share.
Share Your Energy Healing Experience by submitting it right here on this site, then site visitors can read, rate, and comment about it. See an example of how this works with an interesting story of what happend to me about perfection.

You can also share or comment on any page of this website, just see the "Share this page" and "Leave a Comment" options at the very bottom!
Please join me as we develop and grow this fun Healing Community.

There's also an active group of fans on my Healing Journeys Energy Facebook Page so come join the conversation, we'd love to have you with us!

I recently started a Pinterest page with tons of boards to follow!

Of course I am available on Twitter and would love to see your tweets!