Affirmations E-Course - PART 8
Thought for Today
Don't Quit!
When things go wrong, as they sometimes will,
When the road you're trudging seems all uphill,
When the funds are low, and the debts are high,
And you want to smile, but you have to sigh,
When care is pressing you down a bit,
Rest if you must, but don't you quit.
Life is queer with its twists and turns,
As every one of us sometimes learns,
And many a failure turns about,
when he might have won had he stuck it out;
Don't give up though the pace seems slow,
You may succeed with another blow.
Success is failure turned inside out,
The silver tint of the clouds of doubt,
And you never can tell how close you are,
It may be near when it seems so far;
So stick to the fight when you're hardest hit,
It's when things seem worst, that
YOU MUST NOT QUIT!
~ C. W. Longenecker ~
Different Methods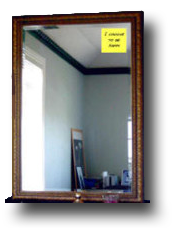 The best way to use your affirmations is to read them 3 times a day; once in the morning, once in the afternoon and once at night before you go to bed, at a minimum, you should read them at least once a day. There are many ways you can do this.
Here are a few examples to help give you some ideas of where to put your affirmations.
Mirror Method
Place a copy of your affirmation on your mirror. Each time you look in the mirror, read the affirmation.
Visual Cards
Place multiple copies of your affirmation in various rooms or places you spend your time at during the day. At home on the fridge, on your mirror, in your office at work, next to your bed, or even in your car.
Using Your PC
One of the most creative methods I've heard of, is using your PC's screen saver to pop up a graphical image of your affirmation. I've seen people use from a simple text scroll for their affirmation, to a little more creative graphical image that has the affirmation with a supporting picture next to the words. Each time the screen saver pops up, the affirmation is read.
If you decide to make use of affirmations in your life, be prepared for change.
Remember what they say, be careful what you ask for you may just get it, because with affirmations manifestation happens quickly, we suggest you learn how best to use affirmations for yourself.
Today's Affirmations
Every day, in every way, I am getting better and better.
Each day brings opportunity for growth in every area of life.
I am learning and growing every day.
Your "Like" & "Vote" would really be appreciated.
Join the HJE Healing Community!
This website is for you and others like you who have a desire to be a part of the natural way to heal.
I am sure you too have found a lot of valuable insights into energy healing and by sharing our knowledge we get to help one another.
This web site is a collation of my knowledge spread over more than 400 pages but I know that there is a lot more information and success stories out there and I would just love to hear about them.
I'd love to receive any articles, photos, stories, reviews, or other content you'd like to share.
Share Your Energy Healing Experience by submitting it right here on this site, then site visitors can read, rate, and comment about it. See an example of how this works with an interesting story of what happend to me about perfection.

You can also share or comment on any page of this website, just see the "Share this page" and "Leave a Comment" options at the very bottom!
Please join me as we develop and grow this fun Healing Community.

There's also an active group of fans on my Healing Journeys Energy Facebook Page so come join the conversation, we'd love to have you with us!

I recently started a Pinterest page with tons of boards to follow!

Of course I am available on Twitter and would love to see your tweets!
Finally understand the Key Factors to Energy Healing & OWN YOUR HEALTH!
ATTENTION!
To understand how to heal with energy you have to understand the concept of energy, the concept of healing and the concept of the mind body connection.
Own Your Health - A Practical Course in Understanding Self-healing with EnergyAnd if this is not enough most energy healing modalities are based in one or more of the following:
Meditation
Visualization
Centering and Grounding
Intent
As well as the effects of negative energy, emotions, thinking and speech:
On your environement
On your personal energy field and energy body
The "Own Your Health - A Practical Course to Understand Self-Healing with Energy" deals with all the aspects as mentioned above and more, is professionally presented in an easy way for you to learn and understand about how to heal with energy so that you can heal yourself and others.