Greetings,



Learn Energy Healing - Easy as 1-2-3!

I've Done the Hard Work so You Can Benefit!

Welcome to my School of Healing with Energy where supporting your Natural Healing Path is our Mission!

Here you can learn the healing arts... easy as 1-2-3... at affordable prices. On our campus you will find a number of energy healing courses, wall charts and the tools necessary to become an energy healer and Reiki master. No matter where you are on your healing journey we have the exact tools for you to help you succeed and go forward.

May these Words of Wisdom, light your journey and leave footprints of love in your heart bringing you hope, joy, happiness and health in body, mind and spirit.

Today's W O W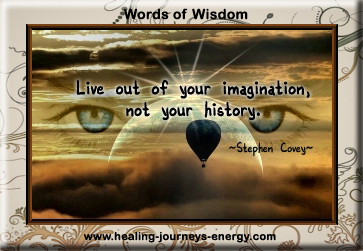 To your magnificence, walk in love




www.healing-journeys-energy.com
P.S.
Go here Now and WIN "Know & Heal Yourself - A Course in Crystal Healing" receive the formula to AWAKEN your "TRUE SELF" with the Astonishing Power of Crystals... AND... open yourself up to a whole new life experience TODAY!

We are ALL Healers and we ALL deserve healing!
With Crystal Energy Healing you CAN heal your Life!
Just imagine how much more you could do... if you could tap into the amazing power of Quartz to feel great and energized everyday! So if you're ready to turn your life around and finally create the life you deserve, then this course is for you.
Crystal Healing
Crystal Healing is an alternative or complementary energy healing medicine technique or modality that employs gemstones and crystals as healing tools. The crystals supply and enhance energy. They have no ill or side effects. They give the cells the necessary energy, which is vital for repairing and maintaining health of an individual.
A medical doctor treats the physical body; a psychologist counsels the mind and emotions; and the spiritual leaders and priests attend to the soul. The practitioner of crystal healing must work to balance everything... the mind, body, emotions and soul or spirit. Learn about this and more... enroll now!
The Power Of Quartz - A Course in Crystals
New Release - HJE Pocket Book Series!
Crystal Healing eBooks - Study Tools and Aids ... All for under $5!
HJE's Crystal Healing Pocket Book Series

Healing is a journey... the destination is YOU!
Healing Journeys Energy - School of Energy Healing


YOUR GIFT!
With a little self-confidence, success-minded motivation, a little creativity, a winners attitude, some effective communication and positive thinking, properly organized, we can make order and clarity out of any chaotic set of circumstances.
Download NOW - E-Book - The Energetic Heart