W.O.W! Words of Wisdom brings you tips, techniques and inspiration to live the life you deserve!
Health & Abundance for Body - Mind - Spirit
If you like this e-zine, please do a friend and me a big favor and "pay it forward."
If a friend did forward this to you and if you like what you read, please subscribe by visiting...

Smile!!
Smile right now!
YES Smile!
Smiling is a great way to make yourself stand out while helping your body to function better.
Some Benefits of Smiling:
Smiling changes your Mood
Smiling relieves Stress
Smiling boosts your Immune System
Smiling lowers your Blood Pressure
Smiling releases Endorphins, Natural Pain Killers and Serotonin
Smiling makes you Attractive
Smiling makes you Look Younger
Smiling makes you Seem Successful
Smiling helps you Stay Positive
Smiling is a fun way to live longer, happier and healthier.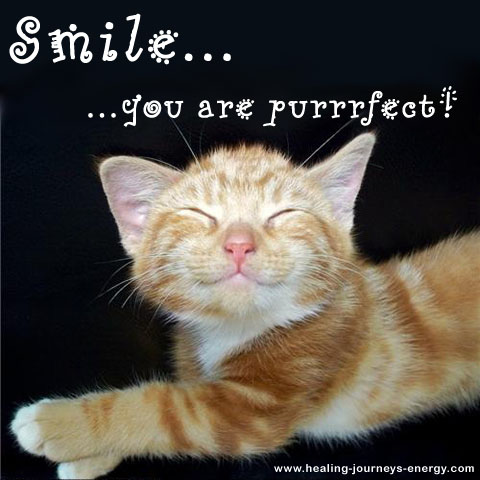 On our campus you will find a number of energy healing courses, wall charts and the tools necessary to become an Reiki Master.
No matter where you are on your healing journey we have the exact tools for you to help you succeed and go forward.
Something wonderful is about to happen. YES!

Please see the P.S. below!
To your magnificence, walk in love




www.healing-journeys-energy.com
P.S.
You are purrrfect!!


Healing is a journey... the destination is YOU!
Healing Journeys Energy - School of Energy Healing