W.O.W - Words of Wisdom brings you tips, techniques and inspiration to live the life you deserve!
Health & Abundance for Body - Mind - Spirit
If you like this e-zine, please do a friend and me a big favor and "pay it forward."
If a friend did forward this to you and if you like what you read, please subscribe by visiting...

The Ultimate Add-On!!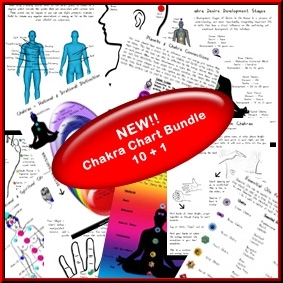 NEW!! - CHAKRA CHART BUNDLE 10 + 1
A Pack of 10 + 1 CHARTS - You don't want to miss this one!
A comprehensive collection of Chakra Charts, which can be put on the wall, depicting the following in detail:
Mental, Emotional & Spiritual Chakra Locations
Head Chakra Chart
Foot Chakra Chart
Hand Chakra Chart
Chakra Balancing Essential Oils Chart
Chakra "Desire" Developmental Stages
Planets & Chakra Connections
Transformation Chakra Chart
Chakras - Rational & Irrational Dystinction
Activating your Palm Chakras
PLUS Chakra Accupressure Belief Points
On our campus you will also find a number of energy healing courses, more wall charts and the tools necessary to become an Reiki Master. No matter where you are on your healing journey we have the exact tools for you to help you succeed and go forward.
Please see the P.S. below!
To your magnificence, walk in love




www.healing-journeys-energy.com
P.S.
"In all of living, have much fun and laughter. Life is to be enjoyed, not just endured." ? Gordon B. Hinckley



Healing is a journey... the destination is YOU!
Healing Journeys Energy - School of Energy Healing