Greetings,



If you like this e-zine, please do a friend and me a big favor and "pay it forward."

If a friend did forward this to you and if you like what you read, please subscribe by visiting...

Every now and then a book comes along that has the power to change lives and revitalize entire communities by raising human consciousness. It brings me great joy and excitement to share a book that does just that! Slim Spurling's In the Mind of a Master.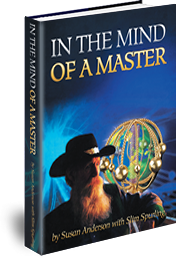 Have you ever wanted to:
Decrease the stress in your life?
Relieve physical and emotional pain?
Connect to your positive energies instead of your negative energies?
Clean up your environment?
Improve your fuel mileage?
If you answered "Yes!" to any or all of these questions, then this is the book for you.
You have been chosen to help us celebrate the book's official launch and receive a valuable bonus gift by purchasing the book - TODAY! - for you and your friends and family!
Click here to order: In the Mind of a Master
Is it possible for an individual to have a profound impact on your life without even meeting you? And for him to continue positively changing the world long after his physical presence on the planet? Scientist and inventor Slim Spurling is that kind of individual. His newly released book, In the Mind of a Master, gives you the chance to hear—in Slim's own words—the powerful solutions he designed to improve your health and the health of your environment.
"Innovative, Powerful, Transformational"
"In the Mind of a Master gives readers the ability to transform their lives in ways that they may have never thought of before. Focusing on the health of individuals and the environment, this guide contains solutions designed to create radical positive changes. I found the book to be enlightening, providing insights into the process of healing that go well beyond short-term fixes." ~Peggy McColl, New York Times Best-Selling Author
Testimonials
Hundreds of Testimonials included in the book provide the best evidence that Slim's tools and techniques have, and will continue to have, a profound impact on individuals' lives and the environment.
On the Healing Journeys Energy Campus you will also find a number of energy healing courses, wall charts and the tools necessary to become an Reiki Master. Say YES today because no matter where you are on your healing journey we have the exact tools for you, to help you succeed and go forward.
To your magnificence, walk in love




www.healing-journeys-energy.com
P.S.
Here's that link for you again, remember the bonus gift will only be available if you order today: In the Mind of a Master