Greetings,



Ho-ho-ho it's Early Christmas at Hje - School of Energy Healing

Receive 50% discount on Wednesday 12 December 2012

I would like to take this opportunity to wish you my students and subscribers a very Merry Christmas a light-filled Hanukkah.

Give the gift that keeps on giving...

The wonderful thing about a gift of healing is that the benefits are on-going and it is truly a gift that keeps on giving.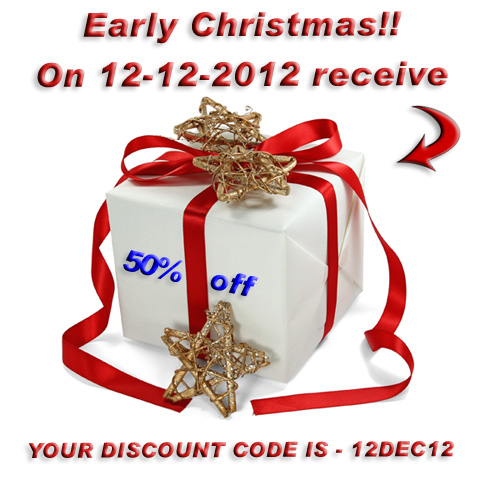 That Special Time of Year
It's here again, the season where we give gifts as tokens of gratitude, appreciation and love and what could be better than giving a gift that is in effect priceless and ageless, healing and education whether to yourself or friends and family!
On Wednesday the 12th of December 2012 we are giving you a 50% discount on all purchases over $5 from HJE to say thank you for being part of our journey.
Take Advantage of it Now.
Enroll today, and get 50% discount using your discount voucher nr. 12DEC12
On our campus you will find a number of Energy Healing Courses, Wall Charts and the tools necessary to become an Reiki Master which all make great gifts. These gifts gives anyone absolute support on their journeys to heal and love. No matter where they are on their healing journeys we have the exact tools for them to help them succeed and go forward into the new year.
Blessings and Love to you and yours.
To your magnificence, walk in love




www.healing-journeys-energy.com

Underground NLP Training - The techniques are so powerful that they're not available on any website... only on a CD that is shipped discreetly to your mailbox.
Subliminal Power - Simply choose the goals you want to achieve from the library of 1,500 built-in to the app, and hit 'OK' -- or, simply type your own. Whether you use your computer for work, college, or just for fun... unless you have this SECRET LITTLE APP installed, every moment you spend on your PC is *wasted*.

Healing is a journey... the destination is YOU! Never ever ever give up!
Healing Journeys Energy - School of Energy Healing


YOUR GIFT!
With a little self-confidence, success-minded motivation, a little creativity, a winners attitude, some effective communication and positive thinking, properly organized, we can make order and clarity out of any chaotic set of circumstances.
Download NOW - Classic Christmas Stories