Affirmations E-Course - PART 7
>
Thought for Today
Seek out that particular mental attribute which makes you feel most deeply and vitally alive, along with which comes the inner voice which says, 'This is the real me,' and when you have found that attitude, follow it. ~ William James ~
Creating Affirmations
Will choosing the correct words make a difference?
See yourself follow these guidelines to create your own affirmations, correctly done they will work for you.
Use the present. Do not use the future tense. You want your mind to know it has already happened.
Be POSITIVE. Use the most positive terms you can. Never use negatives in an affirmation.
Make them short and specific.
Write them. As you are learning to do affirmations, write them down so you will remember exactly what you want to say.
Personalize them with your name.
I choose, I am, I can and I will are statements of self-belief to start affirmations with.
***z1-below-paragraph-1-AffirmationsCourse.shtml***

Favorite topics for affirmations:
Prosperity and abundance
New relationships
Manifestation of physical things
Forgiveness
Attracting business
New employment
Bringing positive people into your life
Some word examples for affirmations:
Abundant; Accept
Beautiful; Bright
Calm; Capable; Caring; Creative
Enjoyable
Giving; Grateful
Handsome; Happy; Healthy; Hopeful
Ideal; Intelligent
Love; Loving
Peaceful; Pretty; Problem Solver; Prosperous
Quick; Quiet
Relaxed; Responsible
Smart; Strong; Successful
Wealth; Wonderful
Affirmation phrase examples:
| | |
| --- | --- |
| Work smart | Have the means |
| Be a winner | Let go |
| Be calm | Let it be |
| Believe in me | Let them be |
| Dare to be different | Trust in me |
| Do it | Step back |
| Do it now | Seize the opportunity |
| Enjoy good health | Take a risk |
| Get in control | Take action |
| Relax and enjoy | Take it easy |
| Getting better every day | Take the lead |
| Give them space | Take the time |
| I can | Think deserving |
| I am | Think happy |
| Have a lot | Think wisely |
| Have fun | I choose |
Today's Affirmations
I am willing to share all that I have and all that I am.
I am generous with my love and my heart.
I believe that everyone deserves to be loved and respected.
Finally understand the Key Factors to Energy Healing

& OWN YOUR HEALTH!
ATTENTION!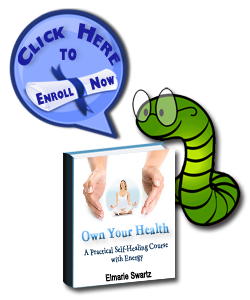 To understand how to heal with energy you have to understand the concept of energy, the concept of healing and the concept of the mind body connection.
Own Your Health - A Practical Course in Understanding Self-healing with EnergyAnd if this is not enough most energy healing modalities are based in one or more of the following:
Meditation
Visualization
Centering and Grounding
Intent
As well as the effects of negative energy, emotions, thinking and speech:
On your environement
On your personal energy field and energy body
The "Own Your Health - A Practical Course to Understand Self-Healing with Energy" deals with all the aspects as mentioned above and more, is professionally presented in an easy way for you to learn and understand about how to heal with energy so that you can heal yourself and others.

$59.00
Your kind donations will keep this Free Website and its related Newsletter going & growing...
When Life hands you Lemons - Make Lemonade! Live Your Dream
Like Healing-Journeys-Energy.com Or "SEND" a Friend a message
Like Healing-Journeys-Energy.com