Crystal Healing Techniques
As crystal healers and therapists one of the crystal healing techniques we very often use is crystal lay-outs. These methods are performed to re-align the body's energy fields and to further open the chakras to promote the overall feeling of well being. (See my book)
Any disharmony collected from the auric fields will be trapped and retained in the etheric body or field (first layer of the aura) which contains the energies released through and into the chakras.
In other words the crystals that surround the body of the person being healed set up a very specific and complex electromagnetic force field which you, the healer, will smooth out and re-direct with your hands.
In my experience I have found that using my left hand to smooth the energy field and my right hand to direct the energy has worked best.
It is very important to remember that we are all different - so do what works for you.
Right Handed Healing
Your Right Hand is positively charged and sends or gives energy. It emits the energy that "makes things happen".
Your Left hand is negatively charged, and receives energy. It emits the energy that "allows things to happen".
Left Handed Healing
Your Left Hand is positively charged and sends or gives energy. It emits the energy that "makes things happen".
Your Right hand is negatively charged, and receives energy. It emits the energy that "allows things to happen".
This specific and complex electromagnetic force field (energy field) acts to repolarize any fields that are misaligned by drawing out and adding the necessary energy vibrations to compensate for the imbalances.
NOTE: It is imperative that you first learn to heal yourself so as to become a crystal clear channel for these messengers of light. The course below is simply laid out and will give you the grounding, knowledge and confidence required to not only heal yourself but to go on to healing others with your talent if you so choose.
HEAL YOURSELF! - A Definite HAVE TO HAVE!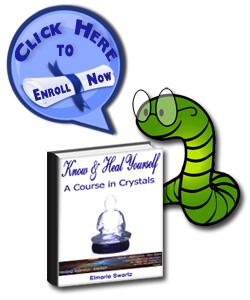 With Crystal Energy Healing you CAN heal your Life!
Receive the formula to AWAKEN your "TRUE SELF" with the Astonishing Power of Crystals... AND... open yourself up to a whole new life experience TODAY!
This Crystal Energy Healing Course, detailing Self-Healing with crystals, is an absolute MUST HAVE for anybody - whether you are a beginner or are experienced in the healing arts, you feel depleted or just need a bit more energy on your unique healing path of self discovery.
Get really excited as this POWERFUL COURSE has been put together in such a way that both beginners as well as experienced healers can easily follow it and become their own most excellent healers... more info
AND...
You will also receive full certification on completion of this course from Healing Journeys Energy and all this at a mere $49.00

Techniques
The following crystal healing techniques are very simple and easy to use. I would suggest that you drink lots of water after doing a self treatment as these techniques also has a detox affect on the body.
See the HJE Pocket Book Series which includes "Crystal Healing" with lots more crystal layouts and nets for you to experiment with as these little gems sell for under $2.
Balancing the Body with Crystals
This is one of the crystal healing techniques I use very often and you will require seven clear quartz crystals about the same size and weight, either natural or tumbled.
Lie down and place a crystal on each of the seven major chakra centres. If a crystal rolls to a different position three times, leave it where it is. It is likely the body is moving it where it needs to be.
You will find that some of the crystals will feel very heavy, like they are sinking into your skin, others will be so light that you aren't sure they are still there, others may feel very cold, while others extremely warm or even electric.
You may also feel like you are floating or receive inner visions of color or patterns.
Each individual is different. Leave the stones in place for at least three or four minutes. The body will find its own balance.
When using any one of the crystal healing techniques, always trust your intuition as far as which gemstones to use whether you are attracted to them because of shape, size, color, etc.
Stress Release and Energizing the Body with Crystals
This is an excellent layout to use for stress release in our fast paced society. I have used this layout with success on people from all walks of life starting from the executive to the stay at home mom with the pressures of raising a family.
I have found this to be one of the best crystal healing techniques for stress release.
You will need seven clear quartz crystal points.
This time do not place them on the body, rather place them on the floor or mat around your body pointing outward,
one above your head,
one below your feet,
at your shoulders on either side
and at your knees on either side.
Lie still for three or four minutes.
This will release stress.
Then turn the points inwards to recharge and energize the chakra centres. Lie still for another three or four minutes.
Aligning and Balancing the Chakras with Crystals
Many healers agree that one of the most popular crystal healing techniques is the chakra layout.
For this healing technique you will need one red stone, one orange, one yellow, one green or pink, one light blue, one dark blue, one white, clear or violet, and one dark stone. All stones should be approximately the same size and weight.
This method is the same as the first, except that colored stones are used instead of clear quartz crystals.
The dark stone or smoky quartz should be placed at the feet for grounding.
The remaining stones should be placed at chakra centres according to color: red on the root chakra centre, orange on the sacral, yellow on the solar plexus, green on the heart centre, light blue on the throat, dark blue on the third eye and white, golden or violet on the crown centre.
Red Stone - Most Popular stone Red Jasper.
Orange Stone - Most Popular stone Carnelian.
Yellow Stone - Yellow Jasper or Citrine are most often used.
Green Stone - Green Aventurine or Rose Quartz you can also try a Watermelon Tourmaline which is a mix of green and pink.
Light Blue Stone - Blue Lace Agate or you can use Turquoise.
Dark Blue Stone - Lapis Lazuli works well and so does Sodalite.
Clear or Violet Stone - Amethyst or Clear Quartz.
The above crystal healing techniques are also referred to as the laying on of stones. It is a very powerful way to perform crystal healing on yourself or others and the purpose of the laying on of stones is to release etheric, emotional, mental or spiritual blocks to well-being.
Tracing the Meridians
I use a clear quartz point in this technique but trust your intuition and choose a crystal to use. Trace the chosen crystal over your meridian lines and press the acupressure points with it. It is a long and tedious procedure and requires some basic acupressure knowledge, but it is extremely effective since it combines the benefits of both crystal healing therapy as well as acupressure.
Figure Eight Looping
This is another one of those very effective crystal healing techniques and involves making the figure eight with the crystal by looping all the chakras together and works very well for aligning and balancing the chakras.
NEWLY RELEASED! - A Definite HAVE TO HAVE!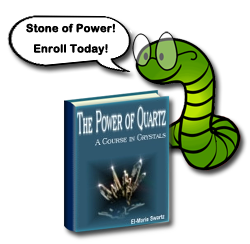 What is it about them, above all other stones that make them so special?
Quartz...Quartz...Quartz - The Master Crystal - The Mother of All Crystals!
Do you have any idea just how many crystals fall into the quartz family...no?
You will after you complete this home study crystal healing course from the HJE School of Energy Healing. Actually to be more accurate not only will you be aware of all the different crystals that fall into the quartz family but you will be qualified and certificated to use them.
Are you drawn to working with the energies of crystals and gem stones and feel you have a special connection with them? - YES!
Would you like to enhance that connection with gem stones? - YES!
Would you like to use Mother Earth's gifts as an energy healing tool and support? - YES!
Complete the Power of Quartz Course and you will!
You have to see it to believe it and all for only $59.00!

Invest in the Wall Chart on the different Quartz Configurations!
This chart gives you an overview of all the different Quartz configurations including descriptions as well as pictures enabling you to easily and effectively identify them. You also get a short overview of what to use them for.
Your kind donations will keep this Free Website and its related Newsletter going & growing...
When Life hands you Lemons - Make Lemonade! Live Your Dream
Like Healing-Journeys-Energy.com Or "SEND" a Friend a message
Like Healing-Journeys-Energy.com